By Mary Barlow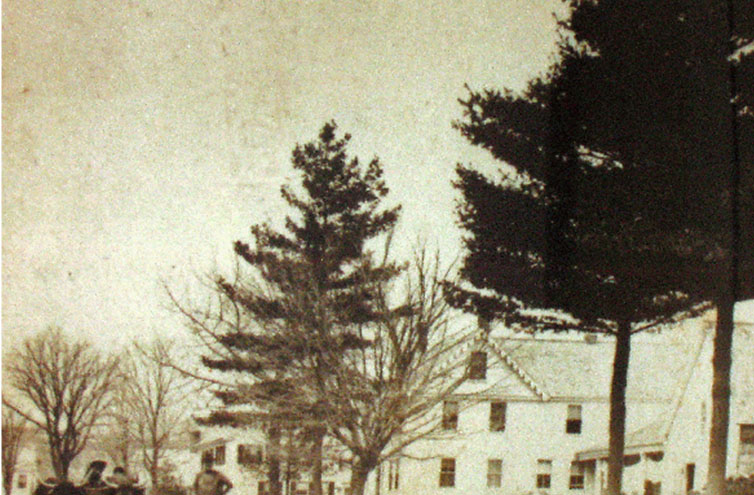 In 2005 we decided to move to Vermont. We started looking in our price range in many towns from Randolph to Barton but finally settled on Danville as a friendly, beautiful place to concentrate our efforts. After looking at 40 houses–some new, some old, some renovated, some not so good–we recognized that we wanted a house that was old, with good "bones,"and affordable for us to renovate/restore and make our own. On December 16, 2005, in one of the biggest snows of the winter, we bought our house in North Danville village and began the process of fixing it up.
Our first visitor was our neighbor from across the road, Gerard Lamothe, who welcomed us and told us about the community organizations: the Community Club, the School Association and the Historical Society, all housed in the old North Danville School just up the road. We joined the Community Club and soon heard about the Old House Committee. Here we learned the basics of property research.
The approach normally used is to work backwards from the current owner to the one prior and so forth. The Danville Town Clerk's office has a card file that cross references Grantor (seller) and Grantee (buyer) with the book and page number where the deed is filed. The books with all the deeds, quit claims, mortgages and probate court documents from Danville going back to before the charter of Danville (which was signed in 1802) are there for your research.
As one follows the ownership back in time, properties were divided, joined, and descriptions are not easily recognized (using stake and stone markers, trees, and fences, etc ). If property was inherited and the probate was not filed in Danville, further research may take you to St Johnsbury or to old Orange County records. Faded ink, centuries old writing and no longer used words made for time-consuming reading and sometimes required the use of a magnifying glass.
The sales description of our house was: "This 1789 house on the stage route in North Danville has a long history of providing comfort to the weary traveler and young married couples who were waiting to find a home of their own." This was the beginning of our search for the history of our house.
The previous owners, the Stewarts, had spent many years creating a Zen garden behind the house. The yard also has a small pond and is terraced down to the Sleepers River. The Remick family had lived there 17 years (1967 to 1984) and Gene had run an auto repair shop in the garage. Prior to that, the Daniel's family lived and raised their children in the house. Grandfather had part of the downstairs, and the garage was still a barn with chickens upstairs and horses below.
There are still a few folks around who remember Nettie Burbank, who rented rooms to young married couples and to some of the school teachers. She owned the house from 1922 to 1941. Lizzie Towne was the owner for one year, 1921-1922, and Frank Emmons from 1909 to 1921.
From 1810 to 1909, the property was owned by members of the Varney family. Working backwards, we found: Kate (Varney) & Charles Green 1889 to 1909, George 1887 – 1889, his father, Charles 1847 – 1887, the widow Hannah Varney from 1833-1847, and Thomas Varney from 1810.
Thomas Varney died in 1825 and in Book 8 Page 605-7 in the Danville Land Records, we found Thomas Varney's estate divided among his heirs: Hannah Varney, his wife, received the Widow's Dower or one-third of the estate. Samuel was given the gristmill, and Charles the sawmill. The other seven children were paid their portion by Samuel and Charles. Our house was in the Widow's Dower. The Grand list of 1828 lists the Varney Estate as one house valued at $680 and two mills valued at $264, some livestock (oxen, horses, cattle/cows, sheep), one clock(taxed at $3) plus 80 acres for a total tax of $187.93. The estate was settled in 1833 and the Grand List of 1848 shows Hannah Varney owned one house and 75 acres valued at $1560.
Charles Varney, Thomas's son, became the owner when the property was signed over to him by Quit Claims from Hannah's children and grandchildren in 1847. On the Walling map of 1858 and the Beers map of 1875, our house is labeled C. Varney.
Trying to establish the first owner of the property, we looked at the five properties purchased by Thomas Varney: March 31, 1810 Deed of Moses Clark to Thomas Varney " in consideration of eleven hundred dollars " a parcel of land "containing one hundred and forty acres" "bought of Daniel Gookins" " with his grist mill and all buildings thereon."
From the North Star of 7 September 1811 (Notice)
The subscribers would inform the inhabitants of Danville and its vicinity that they lately erected a new grist mill and carding machine and clothing works in the north part of Danville at the falls where Capt. Daniel Gookins lately carried on business. Signed by Thomas Varney and Samuel Long."
August 15, 1817 Deed of William Chamberlin to Thomas Varney "in consideration of the sum of seventy dollars" "about five acres and three fourths out of lot no nineteen second Division"…"west of said Varney's mill pond."
July 3, 1821 Deed of William Chamberlin to Thomas Varney " in consideration of the sum of Thirty dollars "… "About two and one fourth acres of land of lot No nineteen, second division."
July 13, 1821 Deed of Samuel Sias to Thomas Varney " in consideration of the sum of three hundred dollars" "about thirty acres and 144 rods of land being part of lot No 19 in the second Division in Danville".. "bounded north of Jos Tillsons land, east on the road & west on the mill pond and Thomas Varney's land."
September 23, 1823 Deed of Joseph Craven to Thomas Varney " in consideration of Fifty dollars" "a certain piece of land"… "lying on the northeast side of the road leading from Joseph Pope's to said Varney's now dwelling on the May farm"… " supposed to be about four acres."
Trying to go backwards in time to the owners before Thomas Varney, we encountered difficulties due to the multiple land transfers both before and after the second division of land in the Danville Charter. We decided to start at the earliest division of land and work forward as it was difficult to determine exactly where each piece of property purchased by Thomas Varney was located.
From the Lotting maps created for the Charter of Danville, second division, which was signed by Governor Isaac Tichnor on November 12, 1802, North Danville is in lots 12, 16, 17 and 19. Jesse Leavenworth was given lots 12 and 16, William Chamberlin – lot 17, and Moses Little- lot 19.
Deed 1-Jesse Leavenworth sold Lots 12 and 16 to James Perkins of Boston 9/17/1790.
Deed 2-James Perkins sold Lots 12 and 16 to Samuel Chamberlin 4/11/ 1792.
Deed 3-Samuel Chamberlin of Danville sold a piece of land to Daniel Clark except for grist mill with the right to build an additional fulling mill below the grist mill for 35 pounds 10 shillings on 8/9/ 1793.
Deed 4-Daniel Clark sold to Daniel Gookins one-half of a sawmill, half the iron works standing on a dam near Samuel Chamberlin's corn mill and the privilege of "drawing water when there was sufficient water to carry both mills or when the corn mill has not any work to grind "… "if there is not water to carry both mills the saw mill must stop" signed 12/23/1787.
Deed 5-Daniel Clark sold to Daniel Gookins a house & barn with a fulling mill, clothiers, tools and 71 acres signed 12/ 7/1797.
These two deeds (Daniel Clark to Daniel Gookins) were recorded 3/3/1798.
The Grand list of 1799, Daniel Googin (Gookins?) owned a house and a mill and some livestock.
Deed 6- Daniel Gookins sold to Moses Clark all the land, grist mill and buildings he had purchased from Daniel Clark for twelve hundred dollars on 3/8/1808.
Was our house the one referenced in the Deed 5 from Daniel Clark to Daniel Gookins? If so then it would have been built before 1797. On the James Whitelaw map of 1796, only Chamberlin's mills are shown for North Danville. If not, the house must have been built after Thomas Varney came here in 1810.
The search has been a learning experience tracing the property from the lotting of the land, to the forming of Caledonia County, the growth of industry, the division and value of property, the rights of the widow's dower, even the change of currency from pounds and shillings to dollars. It has spurred our research into the Varney family and will be the basis for another article on the history of North Danville.
It's a journey that began 2005 and ended in 1790–or vice versa.