By Paul Chouinard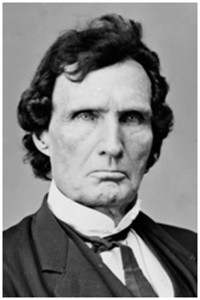 Thaddeus Stevens has recently been featured in Steven Spielberg's, Lincoln, released nationwide on November 16, 2012, and was nominated for twelve Oscar nominations. In Spielberg's film, based on American historian Doris Kearns Goodwin's, Team of Rivals: The Political Genius of Abraham Lincoln, Thaddeus Stevens is portrayed by Tommy Lee Jones. It is the first time since his death in 1868 that he has been portrayed in an objective, historically accurate manner.
For years Stevens' reputation has suffered as a result of his portrayal of the thinly disguised character, Austin Stoneman, a fanatical villain in D.W. Griffith's landmark silent film Birth of a Nation. During the 1940s, Stevens was portrayed as a villain in Tennessee Johnson, a biographical film about President Andrew Johnson. As the antagonist in both films, Stevens is portrayed as an unreasonable, hostile, adversarial individual who would let nothing stand in his way to meet his goal of punishing the South and insuring the rights of the freedmen through his vision of Reconstruction.
Spielberg's Lincoln focuses on divisions within Lincoln's cabinet and the acrimonious debate within Congress, during the last year of the war, over the passage of the 13th Amendment to the Constitution freeing the slaves. The fear that the legality of the Emancipation Proclamation might be challenged by the southern states, once they were readmitted to the Union, made the passage of the 13th Amendment essential. While the Emancipation Proclamation had freed the slaves, the 13th Amendment made slavery illegal forever.
Daniel Day-Lewis is masterful in his portrayal of Lincoln as the ultimate politician who used his intelligence, along with his wit and willingness to compromise, to achieve his goal. Tommy Lee Jones is outstanding in his portrayal of Thaddeus Stevens as the stubborn, tenacious leader of the House of Representatives who used his acidic wit and exceptional oratorical skills, along with every tool within his power, to achieve his goal of passage of the 13th Amendment. Spielberg captures the power struggle between Lincoln and Stevens, who by 1865 regarded the President as "the capitulating compromiser, the dawdler."
Spielberg's Lincoln has contributed to a more positive image of Thaddeus Stevens as a dominant congressional leader during the Civil War and Reconstruction period, as well as a seminal leader of the Civil Rights movement. Interest in his early life in Vermont has intensified since the release of the film.
In the 220 years since the birth of Thaddeus Stevens, in 1792, in Danville Center (the area at the top of Dole Hill near Sugar Ridge Campground and extending south and east to the valleys), he has remained a relatively obscure individual in Vermont history. He has, however, received notoriety in Pennsylvania where he moved as a young man. His public life as a teacher, attorney, legislator, U.S. Congressman and as Chairman of the U.S. House of Representatives, Ways and Means Committee during the Civil War and leader of Radical Reconstruction in the House, following the War, has contributed to his acclaim in Pennsylvania.
EARLY LIFE IN DANVILLE
Joshua and Sarah Morrill Stevens of Methuen, Massachusetts, arrived in Danville Center around 1786. Danville had received its charter on October 31, 1786 from the Vermont Legislature which was meeting in Rutland that year. Once the petition for the charter was granted, the former name of Hillsborough, connected to the New York grant, ceased to have meaning. The legal disappearance of Hillsborough, combined with the casualness of the early record keeping, helped to obscure the connection between the New York grant and the newly arrived settlers.
Joshua and Sarah were among Danville's early settlers to arrive in this frontier area of forested wilderness. There were approximately 50 families in Danville in 1786. A shoemaker and surveyor by trade, Joshua began by clearing the land to engage in subsistence agriculture. Transforming a 100-acre lot of forested wilderness into suitable fields for raising crops was a long, arduous process. The first official survey of Danville was undertaken by Eben Thompson in 1787. In 1790 Danville officials hired Joshua to resurvey the town. He altered the former lines of the first survey slightly; his became the official town survey.
The young couple first became parents in 1790 with the birth of Joshua, who was born with two club feet. His birth was followed in 1792 by Thaddeus, who was born with one club foot. It is believed that Joshua and Sarah named their son Thaddeus in honor of Thaddeus Kosciuszko of Poland. He came to America in 1776 to offer his engineering services for fortifying battle sites that became pivotal in the American Revolution. A third son, Abner Morrill, named for Sarah's father was born two years later and a fourth, Alanson, three years thereafter.
There is no doubt that the birth of two sons with severe physical disabilities had a profound influence on their father, who prided himself for his prowess as a wrestler. It can be reasonably assumed that his masculinity was wounded. In any generation this burden would have been a tragedy, but at that time, based on Calvinist tradition, it was looked upon as a punishment from God for some secret sin. In any of Joshua Stevens' roles in society as a farmer, cobbler, surveyor, or wrestler, he could hardly escape the reality of his sons' disabilities. After the birth of his fourth son, Joshua took to liquor and began straying away from home more and more frequently. He contributed little to the support of the household. About 1804 he disappeared altogether.
Upon Sarah Morrill Stevens fell the burden of raising four boys. According to Oliver J. Dickey, representative from PA in congress and a former law student of Thaddeus', she was "a woman of great energy, strong will, and deep piety." As a family member of respected Revolutionary War veterans and a young woman committed to her Baptist values, she received strong support from her family and community. Following Joshua's departure she continued farming and supplemented her income by nursing the sick, though much of the latter she did gratuitously.
Abner and Sarah Hoyt Morrill, Sarah's mother and father lived nearby, as did her uncle Abel and his wife, Elizabeth Hibbard Morrill, her uncle, Jeremiah and his wife, Hannah Kittridge Morrill, her uncle, Joseph and his wife Ann Varnum Morrill as well as a maiden aunt, Abigail Morrill. We can assume that as a young mother, along with her sons, Sarah had the benefit of a strong, supportive family.
In 1792 a pivotal decision was influenced by Vermont Chief Justice William Chamberlain of Peacham that would impact on Thaddeus Stevens' future. A dispute arose between Danville and Peacham as to which should be the shire town of the newly designated Caledonia County. Both towns felt they had a better claim. A compromise was proposed by Chief Justice Chamberlain that led to the establishment of Danville as the shire town and Peacham as the location for the county grammar school. Danville was officially made the shire town on November 8, 1796 and remained such until 1855. From that point on, Danville Green would Danville Center as the primary village of the town. This decision would have a major impact on Thaddeus Stevens by exposing him early in life to the legislative process and in providing him with an opportunity for a grammar school education.
1805 was an important year in Danville's history for two reasons. The Legislature would meet in Danville as its designated shire town location, and Danville experienced a spotted fever epidemic that swept Vermont. 1805 was also an important year for Thaddeus Stevens. He was thirteen years old, a bright, precocious adolescent, who was in the right place at the right time. About 1804, Sarah sold her farm and moved the family from Danville Center to live with her cousin, James. He was a miller who lived in Morrill Village, known today as Greenbank's Hollow. In exchange for providing a home for her family, Sarah rendered housekeeping services for her cousin. The family lived on the west side of the road, just north of Joe's Brook, near the covered bridge. This placed Thaddeus within walking distance of Danville Green.
Sarah's cousin, Abraham Morrill, a Revolutionary War veteran, was Danville's first Town Clerk and also elected as the town's first representative to the General Assembly. About two hundred legislators descended on Danville to attend the 1805 legislative session. There were only about twenty homes in close proximity to Danville Green at the time, which resulted in the fact that many legislators boarded with families in the outlying areas. The legislature met at the courthouse, while the governor and council met at Sarah's uncle, Abel Morril's, tavern that was located just north of the cemetery. It was at this session that the legislature considered the designation of a location for the state capitol.
Montpelier was chosen as the capitol. The legislature would meet in the shire towns of Middlebury in 1806 and Woodstock in 1807. In 1808 the first legislative session was held in the newly completed State House in Montpelier.
Another important issue considered by the legislature in 1805 was a proposed amendment to the U.S. Constitution to end the slave trade. Governor Tichenor, in his annual message, endorsed the proposed amendment to the Constitution of the United States. One hundred and ten Federalists and seventy-one Republicans united in declaring that "universal freedom is one of those fundamental principles of our political institutions which are engraven on the mind and live in the affections of every true American. And although our country is already infested with slavery, the toleration of which might seem to contravene the general system of our policy, we trust that the humanity and justice of our country will prevent the increase of the deprecated evil, and arrest, as soon as possible, that execrable traffic in human flesh." The proposed amendment was never adopted since it was not ratified by three-fourths of the states as required by the Constitution.
At the same time the Legislature was meeting, many Danville residents contracted spotted fever. Sarah Morrill Stevens was busy night and day providing nursing services to the patients. Thaddeus expressed a desire to help her care for those who were ill. He proved so capable and conscientious that she would often leave him in charge of one patient while she went to look after another. His involvement in assisting his mother gave him the opportunity to travel throughout the town and meet many people. Thus at an early age he saw much of poverty and affliction. In later life he developed profound empathy for individuals afflicted by want and suffering.
There is no direct evidence to point to the fact that Thaddeus Stevens had any contact with legislators or the opportunity to gain knowledge of issues being considered by the legislature. However, as a highly intelligent thirteen-year-old, it seems unlikely that Thaddeus remained uninformed of what was taking place. Given the fact that his mother's cousin had represented Danville in the General Assembly and his uncle owned the tavern where the governor and his council were meeting, it seems likely that Thaddeus would be aware of what was taking place.
This may very well have been his first opportunity to consider the many issues related to slavery that would ultimately preoccupy his focus and legislative initiatives as a member of the House of Representatives in the U.S. Congress.
(Sources listed after third installment)