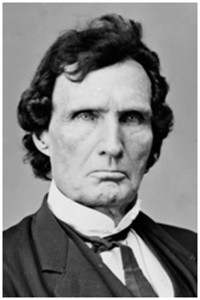 The Peacham Historical Association will hold its annual meeting on Wednesday, August 14 starting at 7 p.m. at the Peacham Congregational Church. Following the Association's business meeting, the evening program will begin at 7:30 and is entitled: "Thaddeus Stevens: History versus Hollywood." The featured speaker, Beverly Wilson Palmer, well-known editor of the Thaddeus Stevens Papers, will share her extensive knowledge of Peacham Academy's famous alumnus.
Thanks to Tommy Lee Jones's brilliant portrayal in the popular movie Lincoln, many Vermonters have only recently become aware of the prominence of their native son, Thaddeus Stevens. Born in Danville in 1792, he moved to Peacham around 1807 where he attended Peacham Academy and where he started his law studies. Although Stevens left Peacham when he was 23, his passion for equal justice was formed during his early years in Danville and Peacham. These qualities appear in Lincoln along with Stevens' oratorical skills and his irascible personality. However, Hollywood has taken liberties with some aspects of this statesman's' life and his role in the passage of the Thirteenth Amendment abolishing slavery. Her talk will focus on these discrepancies.
The program is open to the public and admission is FREE! The evening will end with dessert and conversation downstairs in the church.