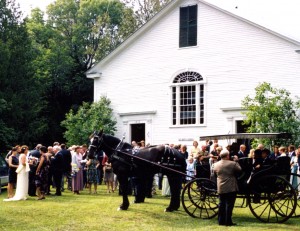 Ele­gant in its sim­plic­ity and beauty, the church is a per­fect set­ting for a coun­try wed­ding. Obser­vances to be fol­lowed when book­ing and using the Old North Church for wed­dings are as follows:
1. The Old North Church Com­mit­tee rec­og­nizes that users of the build­ing may des­ig­nate the lead­er­ship of their sched­uled event to a "respon­si­ble per­son" of their own choos­ing who may or may not have cre­den­tials as a reli­gious leader
2. The offi­ci­at­ing clergy or lay leader is asked to con­tact the wed­ding coor­di­na­tor prior to the wedding.
3. At least two com­mit­tee mem­bers will be in atten­dance at the rehearsal and wed­ding to super­vise light­ing lamps, etc.
4. Rehearsal is to be held, when pos­si­ble, early enough to avoid light­ing lamps.
5. There are about 45 lamps,which may be lighted at the cer­e­mony. Com­mit­tee mem­bers only may han­dle the lamps used. Three lighted can­dles may be allowed at the dis­cre­tion of the com­mit­tee and may be used only on the first level of the church.
6. Pay­ment for the use of the church is due at the rehearsal, or may be paid before to Gail Dev­ereaux, Trea­surer, 23 Whee­lock Road, Danville, VT 05828, or to any com­mit­tee mem­ber. The cost is $200 for any bride or groom liv­ing in Danville or North Danville and $250.00 for all others.
7. Alco­holic bev­er­ages are not allowed and there can be no smok­ing within the church.
8. There can be no aux­il­iary power for recorded music.
9. Avoid spillage of water from flower vases on the tables and floor.
10. Pho­tog­ra­phers are asked to use care in the vicin­ity of the lighted lamps for the pro­tec­tion of all.
11. If pre­ferred, we will move flags in the pul­pit, but the flag in the rear of the church must remain in place.
12. Recep­tions must be held in another location.
Wed­ding Coor­di­na­tors: Judy Parker @ 802 748 8519 and Cheryl Heath@ 802 684 8181