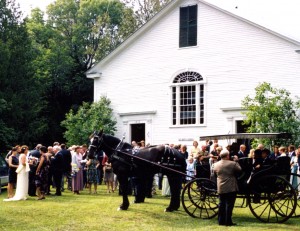 Elegant in its simplicity and beauty, the church is a perfect setting for a country wedding. Observances to be followed when booking and using the Old North Church for weddings are as follows:
1. The Old North Church Committee recognizes that users of the building may designate the leadership of their scheduled event to a "responsible person" of their own choosing who may or may not have credentials as a religious leader
2. The officiating clergy or lay leader is asked to contact the wedding coordinator prior to the wedding.
3. At least two committee members will be in attendance at the rehearsal and wedding to supervise lighting lamps, etc.
4. Rehearsal is to be held, when possible, early enough to avoid lighting lamps.
5. There are about 45 lamps,which may be lighted at the ceremony. Committee members only may handle the lamps used. Three lighted candles may be allowed at the discretion of the committee and may be used only on the first level of the church.
6. Payment for the use of the church is due at the rehearsal, or may be paid before to Gail Devereaux, Treasurer, 23 Wheelock Road, Danville, VT 05828, or to any committee member. The cost is $200 for any bride or groom living in Danville or North Danville and $250.00 for all others.
7. Alcoholic beverages are not allowed and there can be no smoking within the church.
8. There can be no auxiliary power for recorded music.
9. Avoid spillage of water from flower vases on the tables and floor.
10. Photographers are asked to use care in the vicinity of the lighted lamps for the protection of all.
11. If preferred, we will move flags in the pulpit, but the flag in the rear of the church must remain in place.
12. Receptions must be held in another location.
Wedding Coordinators: Judy Parker @ 802 748 8519 and Cheryl Heath@ 802 684 8181